Pedido atendido, Manuela!
Livro 1: Infinito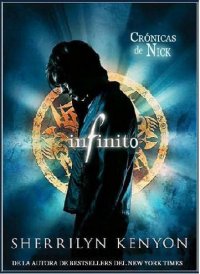 Aos catorze anos, Nick Gautier acha que sabe tudo sobre o mundo ao seu redor. Sabedoria das ruas, duro e experiente, seu sarcasmo ligeiro é lendário... até a noite em que seus melhores amigos tentam matá-lo. Salvo por um misterioso guerreiro lutando melhor que Chuck Norris, Nick é sugado para o reino dos Dark Hunters: matadores de vampiros imortais que arriscam tudo para salvar a humanidade.
Nick aprende rapidamente que o mundo humano é apenas um véu para algo muito maior e mais perigoso: um mundo onde o capitão do time de futebol é um lobisomem e a garota pela qual ele tem uma quedinha sai à noite para pregar estacas em mortos vivos.
Mas antes que Nick possa aprender as regras desse novo mundo, seus colegas começam a se transformando em zumbis devoradores de carne. E ele é o próximo no cardápio.
Como se começar o ensino médio não fosse suficiente difícil... agora Nick tem que esconder de sua mãe seus novos amigos, sua motosserra do diretor e ainda impedir os zumbis e o demônio Simi de comer cérebros - tudo isso sem acabar sendo preso ou suspenso. Como é que, de todo mundo, justo ele se tornou quem deveria fazer isso?

E quando ele pensou que as coisas não poderiam ficar nenhum pouco piores...
O dia de Nick Gautier continua ficando cada vez melhor. Yeah, ele sobreviveu a um ataque de zumbis, apenas para acordar e encontrar a si mesmo escravizado a um mundo de metamorfos e demônios que buscam reivindicar a sua alma.
Seu novo diretor pensa que ele é um bandido muito mais do que pensava o anterior, seu treinador esta tentando recrutar ele para coisas que ele nem pode mencionar e a garota com quem ele não esta saindo, mas esta, tem segredos que o aterrorizam.
Mas mais do que isso, ele esta sendo preparado pelo mais sombrio dos poderes e se ele não aprender como ressuscitar aos mortos até o final da semana, ele se tornará um deles.


O mundo se apaixonou por Nick Gautier e pelos Dark-Hunters. Agora a saga de Nick continua no próximo volume ansiosamente aguardado...
Vá para a escola. Tire boas notas. Fique longe de problemas. Esse é o mandamento para a maioria das crianças. Mas Nick Gautier não é um adolescente comum. Ele é um garoto com um destino que nem ele mesmo entende completamente. E seu primeiro mandamento é permanecer vivo enquanto todos, até mesmo seu próprio pai, tenta matá-lo.
Ele aprendeu a aniquilar zumbis e a ressuscitar os mortos, aprendeu adivinhação e clarevidência, então por que aprender a dirigir é tão difícil? Mas dirigir não é a habilidade primária que ele tem que dominar. Sobreviver é.
E para sobreviver, a próxima lição dele faz com que todas as outras sejam insignificantes em comparação. Ele esta a beira de se tornar ou o maior herói que a humanidade já conheceu.
Ou ele será aquele que acabará com o mundo. Com novos e velhos inimigos reunindo forças, ele terá que recorrer a cada parte de si mesmo para lutar ou ele perderá a todos com que ele se importa.
Inclusive ele mesmo.

(brevemente)

Livro 4: Inferno
The heat is on, and a new threat to humanity has risen...
Nick has his driver's license and he's not afraid to use it. But turning sixteen isn't what he thought it would be. While other boys his age are worried about prom dates and applying for college, Nick is neck deep in enemies out to stop him from living another day. No longer sure if he can trust anyone, his only ally seems to be the one person he's been told will ultimately kill him.
But life spent serving the undead is anything except ordinary. And those out to get him have summoned an ancient force so powerful even the gods fear it. As Nick learns to command and control the elements, the one he must master in order to combat his latest foe is the one most likely to destroy him. As the old proverb goes, fire knows nothing of mercy, and if Nick is to survive this latest round, he will have to sacrifice a part of himself. However, the best sacrifice is seldom the sanest move. Sometimes it's the one that leaves your enemies confused, and you even more so.
And sometimes, you have to trust your enemy to save your friends. But what do you do when that enemy is you?
(brevemente)
Livro 5: Illusion
Be careful what you wish for…
You just might get it.
Nick Gautier is tired of his destiny. He doesn't want to be the son of a demon who's fated to end the world. Nor does he want to see another demon or other preternatural creature who wants to kill or enslave him. He just wants to be normal and have normal problems like everyone else.
But normality isn't all it's cracked up to be. When he gets sucked into an alternate reality where his mother has married his mentor and his Atlantean god best friend has become a human geek, he begins to understand that no life is free of pain, and that every person has a specific place in the universe… Even the son of a hated demon.
Most of all, he sees that his powers aren't the curse he thought they were, and that the world needs a champion, especially one its enemies can't imagine rising up to defend the ones he should destroy.
Old enemies and new friends square off for a major battle that will either restore Nick to his real world, or end him forever.
(brevemente)