Idade do Gelo 1: (2002)
Quem acha que há 20 mil anos, quando o planeta vivia na era do gelo, tudo era frio e sem graça, está muito enganado. Bem frio era mesmo, mas sem graça jamais. Sid, uma falante e engraçada preguiça, Manfred um mamute ranzinza e Diego um furioso tigre dente-de-sabre embarcam em uma aventura diferente e pra lá de hilária. Eles ficam incumbidos de devolver um bebê humano perdido para sua tribo. Será que esses animais tão diferentes vão conseguir se dar bem? Além deles, quem rouba a cena é um pequeno esquilo neurótico que passa o filme todo tentando proteger sua noz. O personagem foi criado pelo brasileiro Carlos Saldanha, co-diretor do filme. Essa edição é cheia de especiais como cenas excluídas, curtas metragens, making of e muito mais. Uma aventura da pré-história.
Baixar Agora:
Legenda:
Idade do Gelo 2: The Meltdown (2006)
Manny, Sid e Diego estão de regresso numa nova e incrível aventura. A Idade do Gelo chegou ao fim e os animais estão deliciados com o seu novo mundo - um paraíso descongelado, cheio de parques de água, géisers e poços... Mas quando, Manny o mamute, Sid a preguiça e Diego o tigre, descobrem que as milhas de gelo derretido poderão inundar o seu vale, eles têm de avisar os outros animais seus companheiros, e de alguma maneira encontrar um caminho para escaparem ao dilúvio que se aproxima.
Baixar Agora:
Legenda:
Idade do Gelo 3: Dawn of the Dinosaurs (2009)
Em A IDADE DO GELO 3, Scrat continua tentando agarrar a noz fujona e nesse processo talvez encontre o verdadeiro amor; Manny e Ellie esperam o nascimento de seu mini-mamute; a preguiça Sid forma sua própria família adotiva seqüestrando alguns ovos de dinossauro; e Diego, o tigre dentes-de-sabre, se pergunta se não está ficando "mole" demais devido à convivência com seus amigos. Em uma missão para resgatar o azarado Sid, a turma se aventura em uma nova era, onde a fauna e a flora são diferentes. Neste local, dão de cara com dinossauros, lutam contra plantas carnívoras de fúria assassina – e conhecem uma incansável doninha de um olho só, caçadora de dinossauros, chamada Buck.
Baixar Agora:
Legenda:
Idade do Gelo 4: Continental Drift (2012)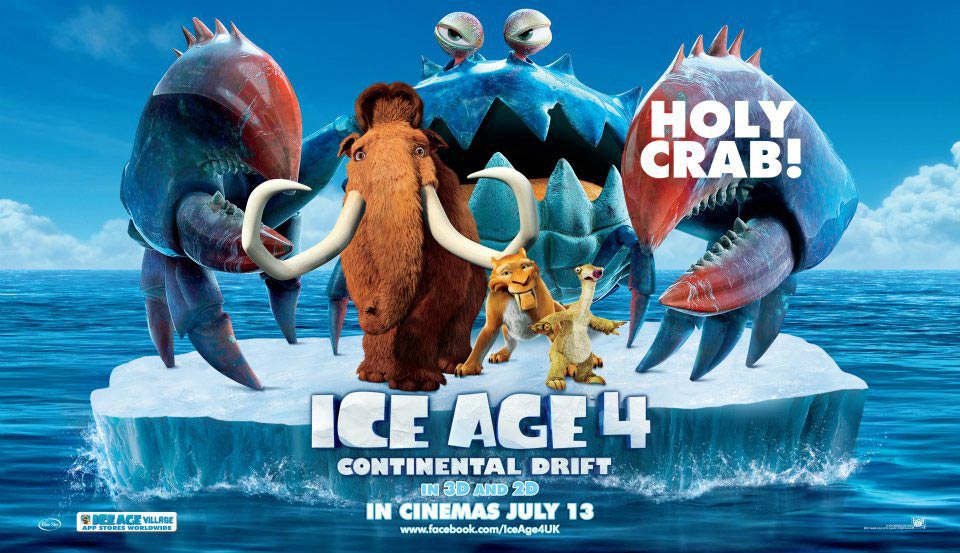 Scrat desencadeia um evento cataclísmico. Sid, Manny e Diego são empurrados para alto mar e terão de lidar com perigos que jamais puderam imaginar que existiam, como um bando de piratas de quinta categoria. Sob muita adrenalina, nossos heróis terão de passar por cima deles e achar o caminho de volta para casa.
Baixar Agora: