Filme 1: Pirates of the Caribbean - The Curse of the Black Pearl (2003)
A idílica vida do malicioso mas irresistível pirata Capitão Jack Sparrow (Johny Depp) dá uma grande volta quando o seu inimigo, o Capitão Barbossa (Geofrey Rush) lhe rouba o seu navio, o Pérola Negra e, mais tarde, ataca a cidade de Port Royal sequestrando a linda filha do governador, Elizabeth Swann (Keina Knightley). Numa tentativa de salvar e recuperar o Pérola negra, Will Turner (Orlando Bloom), um amigo de infância de Elizabeth, decide unir-se a Jack. O que Will não sabe é que a maldição de um tesouro havia condenado Barbossa e a sua tripulação a converter-se eternamente em esqueletos vivos.
Uma aventura cheia de suspense e acção, repleta de combates com espada, mistério, humor e espectaculares efeitos especiais que fazem de PIRATAS DAS CARAÍBAS um dos maiores filmes dos últimos tempos!
Filme 2: Pirates of the Caribbean - Dead Man's Chest (2006)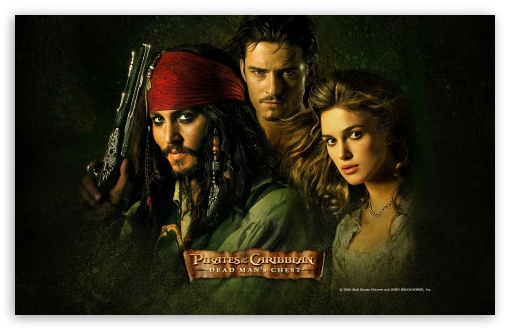 O Capitão Jack Sparrow (Depp) descobre que tem uma dívida de sangue para com o lendário Davey Jones (Nighy), o infame capitão do navio assombrado Flying Dutchman. Com o tempo a esgotar-se, Jack tem de descobrir uma forma de fugir à sua dívida ou será condenado ao eterno sofrimento e escravatura. Como se isto não fosse suficiente, os problemas do Capitão estragam os planos de casamento de Will Turner (Bloom) e Elizabeth Swank (Knightley), que rapidamente se envolvem em mais uma desventura de Jack.
Filme 3: Pirates of the Caribbean - At Worlds End (2007)
Will Turner (Orlando Bloom) e Elizabeth Swann (Keira Knightley) aliam-se ao capitão Barbossa (Geoffrey Rush) numa busca desesperada para salvar o Capitão Jack Sparrow (Johnny Depp) da alucinante armadilha do cofre de Davy Jones – enquanto o aterrador navio fantasma, O Holandês Voador e Davy Jones, sob o controle da Companhia East India Trading, semeiam a destruição pelos sete mares. Navegando através da deslealdade, da traição e por águas selvagens, eles terão de chegar até à exótica Singapura e enfrentar o matreiro pirata chinês Sao Feng (Chow Yun-Fat). A caminho dos confins da terra cada um deve, finalmente, escolher de que lado está numa titânica e final batalha – pondo em risco não só as suas vidas e destinos, mas deixando a sobrevivência do libertino estilo de vida "pirata" preso por um fio.
Filme 4: Pirates of the Caribbean - On Stranger Tides (2011)
O Capitão Jack Sparrow retorna em mais uma aventura cheia de ação sobre verdade, traição, juventude. Ele começa sua jornada quando cruza com uma mulher de seu passado, a filha do lendário Barba Negra. Sparrow está em busca da Fonte da Juventude, e não sabe se a relação deles é amor, ou se ela apenas é uma golpista que quer saber como chegar à fonte.