Filme 1: Scooby-Doo (2002)
Há dois anos, a agência de detectives Mystery Inc. fechou as portas devido a uma incompatibilidade de egos entre os membros. Agora, Scooby-Doo e os seus ex-sócios Fred (Freddie Prinze Jr.), Daphne (Sarah Michelle Gellar), Shaggy (Mathew Lillard) e Wilma (Linda Cardellini) são chamados individualmente para investigar uma série de incidentes paranormais na estância de férias mais em voga do momento, Spooky Island.
Filme 2:
Scooby-Doo 2 - Monsters Unleashed (2003)
Scooby e o seu grupo (Shaggy, Scooby, Velma, Daphne e Fred) têm desta vez que descobrir e combater o provovador da invasão de monstros que estáa aterrorizar Collsville. A usa origem está numa máquina de fazer monstros, que recira recria os inimigos clássicos da Mystery Inc. e vai obrigar os heróis desta história a aplicarem-se a fundo...
Filme 3: Scooby-Doo - The Mystery Begins (2009)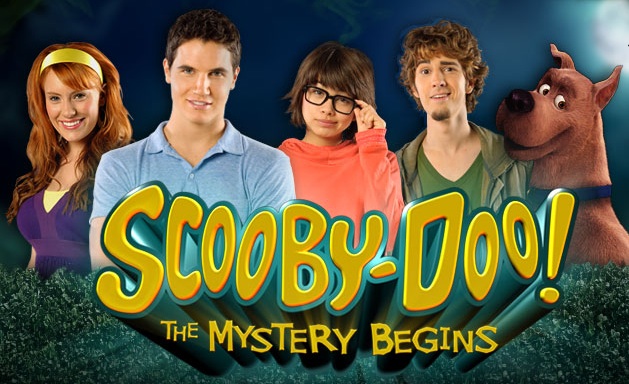 O que reúne grandes amigos? Para Daphne, Velma, Fred, Salsicha e o cãozinho Scooby-Doo, é um mistério! Literalmente! Este longa-metragem leva os fãs de volta no tempo, para quando nossos quatro heróis eram adolescentes novatos no assunto – sempre acompanhados por um cão detetive – e tiveram seu primeiro encontro profissional. Injustamente acusados de encenar uma piada sobre fantasmas, os garotos são suspensos do colégio. Para limparem seus nomes, eles se unem para resolverem um mistério sobrenatural... E se envolvem em uma aventura repleta de bom humor. Esta história revela as origens de alguns dos personagens mais queridos do universo da animação e mostra que não são somente os cães que têm fidelidade aos amigos!
Filme 4: Scooby-Doo - Curse of the Lake Monster (2011)
Nesta aventura, a Misterio S.A. encontra-se indo em direção a um clube do tio de Daphne, para arranjarem empregos temporarios de verão. Enquanto estão envolvidos com suas tarefas, eles tropeçam em um novo misterio: estranhos acontecimentos são presenciados ao redor do lago local incluindo curiosas pedras preciosas e um monstro assustador a solta. Como no próprio nome do filme, Scooby-doo e a Maldição do Monstro do Lago, é conjurado pela bruxa do mal "Vanda Grubwort". Existe clima de segredo e romance no ar, os quais somente Fred, Daphne, Velma, Salsicha e Scooby poderão resolver.