Livro 1: Proibida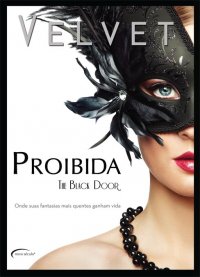 Entre o importante trabalho como sócia de uma firma de advocacia e o relacionamento com um dos solteiros mais cobiçados de Nova York, Ariel Vaughn parece ter tudo. Mas o sexo com o juiz Preston Hendricks havia esfriado consideravelmente. Por meio de um atraente acompanhante da Black Door – uma boate de elite que satisfaz os desejos carnais de algumas das mulheres mais ricas de Nova York – ela se encanta com um mundo de tentação irrestrita. Dentro da Black Door, máscaras elaboradas escondem as identidades do mundo real e o sexo é mais selvagem do que Ariel jamais conseguiu imaginar. Porém, as coisas fogem do controle e sua vida sexual entra em conflito com a real. Ela vai conseguir abrir mão de prazeres ilimitados? E quando ela descobrir a chocante identidade do homem mascarado, com quem viveu suas noites mais intensas, será capaz se afastar de lá?
Livro 2: Seduction
Former part-time escort Mason Anthony manages The Black Door Two--a downtown club catering to a much younger sexually uninhibited clientele than the original uptown elite Black Door club where he used to work. In a world where customers are always right, Mason makes sure that he fully accommodates their erotic needs. Controlling his sex-crazed spirit long enough to focus on his new leadership role is tough, especially when he's on the search for Ms. Right. Will he be able to resist temptation to win the heart of the one woman who melts his heart? Or will secrets and scandal come knocking on his door one steamy night?
(brevemente)
Livro 3: Betrayal
Ariel and Preston are happily married, but for how long? Once his memory returns, he considers turning to his wife's nemesis, Michele, for comfort. But will he forgive and forget?
Trey and Ariel have buried their feelings for each other, and put the past behind, but their secret pact to keep the truth from Preston reunites them in a newly minted friendship. Will they be tempted to cross the line again?
(brevemente)
Livro 4: Naughty
The Black Door is a place of forbidden pleasures and where every fantasy can come to life. The women in the Naughty Book Club – Naomi, Kennedy, Mira and Tyler – will go to any length to satisfy their erotic desires. While they keep that part of their lives a secret, their significant others are harboring secrets of their own. Naomi, a suburban housewife, is stuck in a loveless marriage and can't figure out why her husband won't have sex with her. Mira, the seemingly conservative CEO, has a wild side that could ruin not only her professional reputation but also her relationship with Sam. Kennedy, a flight attendant, is tired of looking for love in the wrong places, but the mystery man seated in first class might be just what she needs. And when Tyler comes home early from her latest design assignment, she discovers her girlfriend in bed with a man, and it is all she can do to keep it together. Here they each begin their experience at The Black Door. Once certain truths are revealed, will the shock of knowing destroy relationships, or will they all just 'play nice', and forgive and forget?
(brevemente)