Livro 1: Guerreiro Escravo
Kieran O'Brannon não é um escravo comum. Insubordinado, ousado e perigoso, ele é indomável. Iseult MacFergus se vê atraída por esse poderoso homem com a força de um guerreiro e a honra de um rei, e confia nele para ajudá-la a encontrar seu filho desaparecido...
Kieran se vendeu como escravo para salvar a vida de seu irmão, mas Iseult, com suas feições angelicais, lhe dá a esperança de ele voltar a ser um homem livre. Contudo, ainda que o preço da liberdade de Kieran seja encontrar o filho dela, seu coração pertencerá a Iseult para sempre...
Livro 1.5: The Viking's Forbidden Love-Slave

"You're terrified I'll force myself upon you. And worse, that you'll enjoy it."
Aisling O'Brannon should hate the Vikings who raided her village... especially after she's captured as a gift for King Magnus by warrior Tharand Hardrata. But while her head says one thing, her body says quite another. Her attraction to the fierce and forbidding warrior cannot be ignored... even though she's intended for another man's bed.
Tharand has vowed not to conquer Aisling, saving her for the king instead. But the beautiful Irish noblewoman awakes a powerful desire in him. He can't stop himself from arousing her, bringing her to the peak of pleasure while trying to honor his promise. As they near Magnus's domain, Tharand's restraint is tested beyond endurance. Soon he must choose: please his king... or keep his captive love-slave for himself.
(brevemente)
Livro 2: Rei Guerreiro
Uma chantagem forçou Patrick MacEgan a se casar, mesmo que ele não aceitasse ser forçado a possuir sua esposa normanda.
Mas Isabel de Godred era tão bela quanto determinada a não se deixar dominar.
Como rainha, ela poderia ajudar a firmar uma aliança entre seu povo e o dele.
Como mulher, ela logo desejava confortá-lo.
Afinal, sozinhos, poderiam deixar de lado a guerra... e ser apenas um casal entregue ao fogo da paixão...
— Sei por que se casou comigo. Só não entendo por que não me deixa ajudá-lo.
Tenho um dever para com estas pessoas. Não posso ficar isolada em Ennisleigh.
Embora o gesto fosse apenas o apelo de uma mulher, Isabel conjurava um inegável desejo. Patrick ficava tenso com o toque dela.
Qual era o problema com ele? Ela era uma normanda!
Isabel se aproximou. O cabelo estava solto, o leve aroma do mar a impregnava. Patrick se percebeu olhando para sua boca. Macia e carnuda, os lábios o fascinavam.
Ela é sua esposa, o corpo argumentava, e uma bela mulher...
— Não quero que seja ferida — disse ele.
Mentiroso, sua consciência acusava. Não queria era ser seduzido por ela...
Livro 3: Guerreiro Guardião
Guerreiros indomados, corações apaixonados!
Genevieve de Renalt precisa escapar do homem ao qual foi prometida em casamento, mesmo que isso signifique ser forçada a confiar em seus inimigos.
O guerreiro irlandês Bevan MacEgan não pode abandonar uma donzela em apuros, mas até onde irá para mantê-la a salvo?
Um casamento beneficiaria a ambos, mas ele jurou jamais amar novamente... Orgulhoso e forte, ele se mantém distante de Genevieve.
Contudo, à medida que ela começa a derreter seu coração, Bevan se vê forçado a fazer uma escolha... que pode significar perdê-la para sempre!
Sua mente mandava que parasse. A voz da razão exigia que a soltasse.
Genevieve não lhe pertencia, nunca seria sua. Aquilo era errado.
As mãos dela tocaram timidamente seu peito, as palmas pousando de leve sobre o tórax antes de lhe cingirem o pescoço. Inexperiente e insegura, Genevieve parecia assustada, porém, determinada.
Lug! Não se lembrava da última vez em que uma mulher o abraçara.
Era tão bom, um atear de fogo. Seu corpo ficou impaciente, e por fim Bevan cedeu à vontade. Capturou os lábios de Genevieve, saboreando o doce calor de sua boca.
Ela estremeceu em seus braços, mas não o repeliu.
A respiração dele fluía entrecortada.
— Não devemos fazer isso — murmurou ela. — Não posso...
As mãos de Bevan desceram pelo corpo dela até alcançarem os quadris, puxando-a para perto.
— Eu sei. — Mas, enquanto dizia estas palavras, Bevan sabia que não seria capaz de parar de desejá-la.
E a beijou novamente…
Livro 4: O Toque do Guerreiro
Connor MacEgan é um guerreiro.
Está em seu sangue.
Quando suas mãos são feridas em um ato brutal, ele descobre que talvez jamais possa empunhar uma espada novamente... ou tocar uma mulher...
Ele passa a contar com a ajuda de Aileen O'Duinne, uma mulher incapaz de ignorar o sofrimento alheio da mesma forma que é impossível para Connor fugir de uma batalha, Mas sobre ela paira um mistério; um segredo de paixão e subterfúgio, que pode partir seus corações mesmo depois que as mãos dele estiverem curadas...
Ela o escutou entrar, fechando a aba de couro atrás de si, até que estivessem cercados pela escuridão.
As peles macias lhe atormentavam a pele nua, sensuais e convidativas.
Aileen não podia acreditar que havia concordado com esta mentira.
Mas agora era tarde demais para voltar atrás.
Escutou o leve ruído das roupas de Connor caindo ao chão.
Depois, sentiu seu peso quando ele se sentou sobre o catre.
— Sabe o que esperam de nós — ele disse.
Sua voz, um som grave e ressonante, parecia acariciá-la.
— Sei.
A mão dele se moveu até alcançar a coroa. Ele a retirou, passando os dedos pelos cabelos dela. Aileen estremeceu, e as mãos dele seguiram para os ombros desnudos.
— Você é linda — ele disse, e, por um instante, ela acreditou nele.
Ela estendeu a mão e juntou sua palma à dele.
Isso é errado, pensou. Mas, esta noite, não terei arrependimentos.
Se Lianna não queria fazer o papel da deusa, Aileen o faria.
Por ora, por esta noite de Bealtaine, ele lhe pertencia. E ela pretendia aproveitar cada instante...
Livro 5: Guerreiro Proibido
Ewan MacEgan crescera e se tornara tão forte quanto atraente.
Agora, teria de encontrar uma boa esposa.
Embora viúva, Honora St. Leger preferia empunhar uma espada a se dedicar aos trabalhos domésticos. Mas por que o noivado de Ewan com sua irmã a incomodava tanto?
Ele, por sua vez, fizera a escolha perfeita ao optar por uma futura esposa rica... mas se viu perdidamente atraído por Honora!
Ewan anseia por seu toque, sua atenção e admiração, pois está certo de que ela é tão intensa no amor quanto no campo de batalha!
Livro 5.5: A Virgem Proibida do Guerreiro

Sir Ademar de Dolwyth acha que a bela Lady Katherine de Ardennes jamais vai considerá-lo para seu marido - especialmente porque que ela está apaixonada por outra pessoa
Mas quando o coração de Katherine é partido, Ademar está lá para oferecer conforto...
E paixão.
O cavaleiro normando não consegue dizer a Katherine como se sente, mas pode mostrar isso a ela sem usar as palavras...

Livro 5.6: Voyage of an Irish Warrior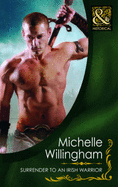 Quin MacEgan has been Brenna O'Neill's closest friend and protector for three years. He means everything to her, but the feelings of desire he has awakened in her are terrifying. Afraid to become a woman she didn't want to be—a woman like her mother—Brenna pushed Quin away and agreed to marry another.
But when Brenna's betrothed is not among the survivors of an ill-fated trade voyage, Quin is more determined than ever to make her his wife! Even if it means putting aside his own passions and agreeing never to touch her…

(brevemente)
Livro 6: Rendida ao Guerreiro
Um guerreiro irlandês com uma sede de vingança...
Trahern MacEgan, seu corpo está forjado para a luta, sua alma é negra e torturada.
As mulheres querem lhe dobrar, mas ele amou uma vez e agora a perdeu.
Uma mulher que sofreu em silêncio...
Morren O'Reilly, conheceu a dor e a vergonha, mas mantém erguida a cabeça embora tema que um homem a toque.
Sua redenção apaixonada...
Pode Morren ser a luz que iluminará a escuridão de Trahern, e pode ele fazer com que se sinta completa rendendo-se a suas carícias?
Livro 6.5: Pleasure by the Viking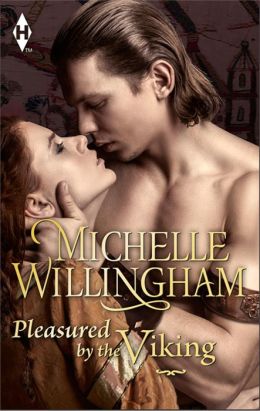 Ireland, 1181
To secure peace for her clan and protection for her mother, chieftain's daughter Auder O'Reilly agrees to marry a powerful Norman baron. Though she desperately hopes the alliance will work, Auder worries she won't be able to please her husband in the marriage bed - a fear she admits to her friend, handsome Viking Gunnar Dalrata.
Auder has no difficulty imagining sensual delights with Gunnar, but she doesn't believe he would ever think of her that way. Until the night of Bealtaine, when Gunnar whisks Auder away to introduce her to the true pleasure of making love….
(brevemente)
Livro 6.6: Lionheart's Bride
King Richard and Princess Berengaria, 1191
Princess Berengaria's lady-in-waiting, Adriana, takes her duty to the future Queen of England seriously—she will defend her to the death! When their sea voyage to the Holy Land ends up in shipwreck and capture Adriana knows her only hope lies with the mysterious Irishman, Liam MacEgan.
Liam escapes to reach Richard the Lionheart and together they plan a rescue mission. Nothing will stop these warriors from succeeding—their future brides are captive on Cyprus and they'll raise hell to claim them!
(brevemente)